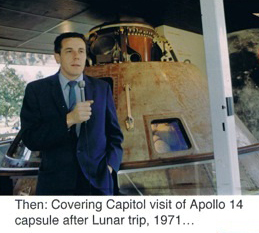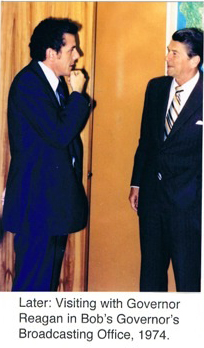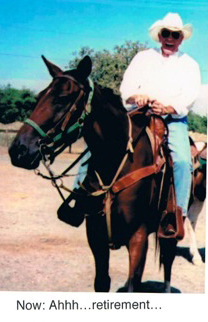 Bob McCafferty
(Copy by Bob McCafferty)
VBL Board member Bob is a 1965 graduate of the Don Martin School of Broadcasting, Hollywood, where he gained his '1'st Phone Ticket'. He's a veteran of five TV stations as Engineer, reporter, anchor and News Director, KHSL-TV 12, Chico, reporter, producer, anchor, VIP show host (Gloria Steinem, Congressman Jack Kemp, Governor Reagan, etc.), KXTV-TV, 10, assignment editor, KOVR, TV 13, freelancer (Mount Shasta summit attempt), KCRA, TV 3 and as show host, Express for Business, KVIE, TV 6.
Intermittently!
That is due to the fact he went from the 'frying pan to the fire' by serving in Government at times...
First accepting a 1972 offer from Governor Reagan to create and manage the Governor's Office of Broadcast Services. Then as Media Director for the state Assembly GOP Caucus followed by appointment by Governor Jerry Brown in 1977 as Employment Development Department Communications Director. Later---much later---he was appointed by Governor Arnold Schwarzenegger as Assistant Director for Public Affairs, Department of Aging (no, smarty, age was not a qualification---dead brain cells from broadcasting possible!!!).
At various other times he was a partner in the PR firm Huckaby, McNally & McCafferty, President of McCafferty & Co. Communications, at 1st a PR firm. He then became a magazine writer (Comstock's Business, Sacramento, Air & Space/Smithsonian, others), then a professional coach/speaker on media relations.
Bob has served on various boards; American Heart Association-Sacramento Chapter, Sacramento PR Assoc. (President), Aviation Museum of CA, Fair Oaks Chamber of Commerce, CA International Marathon Committee (ran CIM race three times) and National Speakers Association, Sacramento Chapter (President). He has been honored with the PR Association Lifetime Achievement Award (mentoring new members), two Society of Professional Journalists' writing awards and as Heart Association Volunteer of the Year.
A six year Air Force veteran (entirely Honorable, equally undistinguished) and a Boy Scout of modest accomplishments, he enthusiastically agrees with what actor Paul Newman once said: "Anyone in this business who doesn't give a lot of credit to luck isn't telling the truth!"
TV news was Nirvana for an adrenalin junky---covering Bobby Kennedy's '68 Presidential campaign, interviewing astronaut Alan Shepard when he returned from the Moon on Apollo 14 (the only Original member to make the Lunar voyage), a mission on the aircraft carrier Enterprise, a cattle drive---a wondrous laboratory of learning!