2022: 10 Feb, 14 Apr, 9 Jun, 11 Aug, 13 Oct, 8 Dec
Nicholas Piontek,
Sacramento Archivist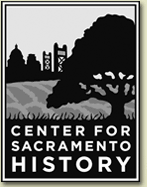 Our August 11 speaker will be Nicholas Piontek, Archivist at the Center for Sacramento History since 2020. He'll be sharing information about the Center's collection of local broadcast tapes and other memorabilia, and how to prepare yours for eventual donation to the Center.

Nicholas describes himself as an "Information professional obsessed with finding a
better way by having a 'yes before no' mentality." Among his expert duties is
developing procedures for processing, storing and keeping records of documentary
materials, as well as representing the division before various community groups,
potential donors, and individual researchers.

Nick is a recent Master of Science in Information graduate from the University of
Michigan School of Information, where he specialized in Archives & Records Management, and previously earned his Bachelor of Arts in History from Michigan State University. While attending graduate school, he served as an elected officer of the student chapter of the Society of American Archivists, and then served as an elected board member for the Students and New Archival Professionals roundtable within the Society.
Steve LaRosa has donated an extensive collection of videotapes from his days as a feature reporter at KCRA. He wrote an article urging broadcasters to preserve materials properly while sighting Nicholas as a local archivist, which stimulated this month's program. We reproduce Steve's article here:

Donating Old Footage To Preserve The Past — by Steve LaRosa
For those TV and radio folks who find their homes cluttered with boxes of their "greatest hits" and are looking for a solution to their domestic overcrowding, the Center for Sacramento History may just have the solution. The Center houses a large collection of moving images in film, video, and digital formats. The
largest portion comes from the KCRA-TV Film Collection [rescued by VBL
member Harry Sweet] and the KOVR-TV Film Collection, both of which contain raw news footage and edited programs dating from the late 1950s. The Center is equipped to accept most audio, film, and video formats.

Many of those formats are such that you probably wouldn't be able to view them anyway, due to not having the suitable equipment. And it would be a shame for them to end up in a garbage dump someday when they could be saved for posterity and for use by future media producers as well as general historic research.

In order to better preserve its film holdings, the Center has recently completed construction of a cold storage room within its vault. The cold storage room will allow the Center to preserve its film holdings and buy valuable time to digitize the film without it decaying.

If you've got material that the Center might be interested in, come to the August 11 meeting and chat with Nick. Or contact him at npiontek@cityofsacramento.org