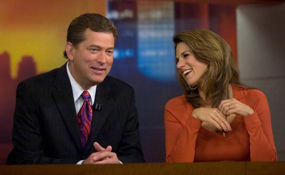 Dale Schornack & Cristina Mendonza
They've been a Sacramento institution for 20 years. They've anchored well over 14,000 newscasts, produced hundreds of special assignment reports, and interrupted regular programming countless times to report live coverage of earthquakes, tsunamis, wildfires, floods, plane crashes, police chases and armed standoffs. And there was shock and dismay in the broadcasting community when their contracts were not renewed during a wave of staff changes at KXTV/10 this past summer.
They are Dale Schornack and Cristina Mendonza, former co-anchors of the evening newscasts on Channel 10. And they'll be our special guests, recounting tales of their exploits and answering any and all questions, at the Oct. 12 luncheon of the Valley Broadcast Legends.
Dale began his TV career in 1979 after graduating from South Dakota State University with a degree in broadcast journalism. During his career, he's covered four presidential inaugurations, Princess Diana's funeral, the Oklahoma City bombing and the Los Angeles riots in the nineties. Eight years ago, Schornack was the only Sacramento TV news reporter to cover Barack Obama's first inauguration and doing it solo as a multimedia journalist, shooting video, editing on a laptop computer, and feeding stories to the station via the internet. Eight years later, he did the same for the Trump inauguration, this time shooting, tracking, editing and uploading edited packages entirely on an iPhone 6. Dale is now public information officer for the California Department of Public Health.
Cristina began her career as a reporter for the Fair Oaks Post in 1984. She spent several years in radio newsrooms throughout Northern California before her first television job at KRCR in Redding. She then spent a year as a consumer reporter at KOVR/13, moved on to a morning reporter/anchor gig at KUSA in Denver, and finally to KXTV/10. Cristina has received Emmys and Edward R. Murrow awards in her time, but she is most proud of an award from the National Alliance on Mental Illness she received for a series on mental illness in young adults. She will be inducted into the 2017 class of the NATAS Silver Circle this October. This promises to be one of our best programs ever, and we strongly suggest you make your reservations ASAP
Copy by Jim Drennan